Around the world
While researching folk art throw pillows online, I came across so many different styles of pillows.  So, I thought I would extend my previous article on folk art throw pillows to include ethnic style, folk art throw pillows.  As mentioned in the previous article all cultures have their own type of folk art designs, however, I've notice that they all have that basic decorative design element of bright bold colors. Whether the throw pillows were embroidered or painted they all were bold and bright.
I have an interested in most anything ethnic, (as probably most of us do) because my family background is ethnic.  So, if you have an interest in ethnic style folk art throw pillows, there are many available online and in most traditional stores that carry throw pillows.  I've captured some images to show, but I've also included an image from Zazzle, they also carry ethnic style, folk art throw pillows you can connect with them by clicking on the pillow below.
I hope you enjoy the article and the images I attached to this post.  Smile!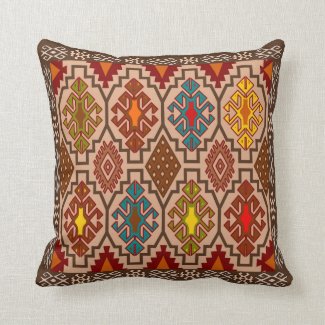 Decorative ethnic style, folk art
by
Boopoobeedoogift
Shop here for
Pillows
at Zazzle
See you soon!