Checking your list
Can you believe it! In another three months the Holiday season will be upon us again.  So, we've better get started planning and making our lists of things to do, and things to buy.  But, don't forget to add a decorative holiday throw pillow to your list for the Christmas season.  Because, before you know it, the holidays will be knocking at the door, and we won't have any time left to catch up.  So, make your list, check it twice, and remember! add who will receive your specially made personalized decorative holiday throw pillow (This throw pillow cover is from Amazon.com, hover over the pillow).

Make a decision
A decorative holiday throw pillow is a great gift to surprise someone with during the Christmas season.  Because, throw pillows are versatile and can be personalized to suite your style.  For instant, a photography throw pillow with season's greeting on it, makes a great gift for a family member, a friend, or a co-worker.  Or, adding your company logo to a throw pillow with your holiday message, to be sent out to your most loyal customers.  There are so many beautiful decorative holiday throw pillows on the market for this Christmas season, they can be personalized, or just purchase off the rack.  But, whatever you do, make your decision in a timely manner because ordering becomes tuff during the holidays.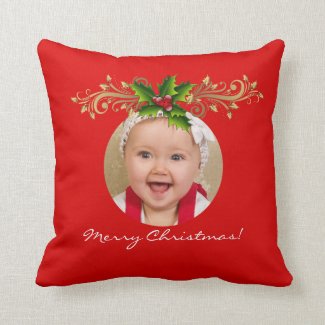 Christmas Xmas Photo Template Baby family
by
HolidayParty
Find another
Pillow
Getting Started
Decorative holiday throw pillows can be customized in your choice of colors, style, size, and textures.  Decide on your theme and color palate for the season, and get started looking around.  But, if you're planning to add a photo, or text, to your throw pillow, remember to give yourself the time you need since they will require downloading information.   Be creative, be personable, make this season your season with a great decorative holiday throw pillow that everyone will always remember you by.
I've included in this post some online companies(such as Amazon.com) that carry decorative holiday throw pillows.  There are many colors and styles, and they also offer customization.  Click on the pillows in the post content and it will take you to that online store.
I hope you've enjoyed the content of this post, if you did please leave a comment.  Your comments are appreciated, and I will response to them as quickly as possible.
Thanks
See you soon!
Written by Terry Parson