Online research
When researching to review the process of creating a throw pillow online, I looked at several online stores that offered the opportunity to create your own personalize throw pillow.  While all the online stores offered a similar package on creating your personalize throw pillow, I took a look at zazzle packages.  I chose zazzle because besides being able to personalize a throw pillow, the company offered an extensive array of other products that could be personalized to suite your own style.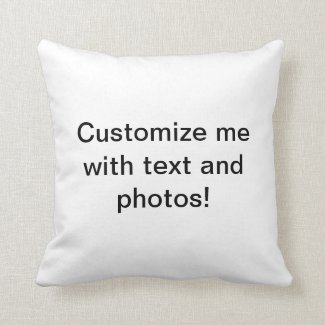 Custom Pillow
by
HolidayZazzle
View other
Customized Pillows
Choosing a template
This online company offers you a blank pillow template to choose from which includes pillows in several shapes and sizes. They offered square pillows in sizes 16", 18", 20", 22" and 26", priced from $29.95-$49.95.  Round pillows priced from $28.95-$33.95, and lumbar (rectangular) pillows priced from $34.95-$39.95. There were a few other pillows included in the template, such as body pillows priced from $79.95-$90.90, and accent pillows priced from $32.95.
Your personalized design
After choosing a pillow template in the size and shape you wish, you are then prompted to choose a layout.  Drag and drop your image and begin to personalize your throw pillow.  When creating a throw pillow online you are giving the option of downloading your own personal family pictures, your unique artwork, any text of your choice, and company logos.  But if you don't have any of these items of your own in mind, Zazzle also offers a number of designs and pictures that you can use.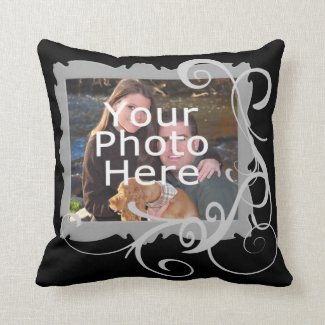 Swirly Custom Photo Frame Cushion
by
cutencomfy
View another
Pillow
Company guarantees
Zazzle guarantees that they will process your order within a 24 hour time period. They will provide you a quality product, and if you're not completely satisfied, there return policy is to replace or refund your product within 30 days of receipt.  Shipping and handling charges applies, and you will receive your product within 5-7 working days. They have a 100 percent satisfaction guaranteed.
In conclusion
In reviewing this company's creating products, I felt confident that I would be able to create and personalized a throw pillow of my choice successfully using my own imagery or even theirs.  The one drawback that was mentioned by a customer's testimonial was that "some of the design functions could be made more user-friendly".  Overall I would say that using zazzle for creating a throw pillow online is a great choice.  This company offers you a choice of templates, the ability to upload your designs, artwork, photos, logos, and text to customize your product as you please, and the opportunity to use their designs if you don't have your own.  So, you see it isn't too difficult to be able to create a one-of-a-kind piece of art on a throw pillow.  Try it online at zazzle.com.
See you soon!
Written by Terry Parson