The Style
Art deco styling is very common in interior design, and is most commonly used by incorporating art deco throw pillows.  In interior decorating if you mentioned modern technology with smooth lines, geometric shapes, streamed lined forms and bright colors you'd be talking about art deco.  It was looked upon as a design style that was elegant, glamorous, and functional.  It is a mixture of several major art styles from the early twentieth century, such as Aztec, Egyptian, futurism, and cubism to name a few.  Art deco style elements were purely decorative.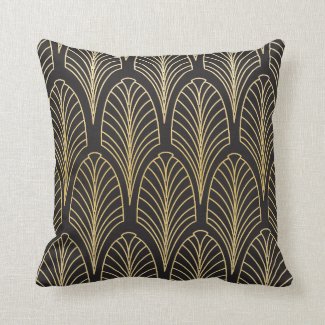 Art Deco Style Pillow
by
blueberrylane
Browse other
Roaring Pillows
Initially art deco was considered a luxury style that was incorporated into furniture, textiles,  and interior design, among other architectural designs.  These were elements that could easily be incorporated into designing an art deco throw pillow.  Because of its modern style art deco designs was especially suitable for interiors.  Some design elements from the era was stainless steel, aluminum, plastics, lacquer, and inlaid wood.  Also introduced was shark-skin and zebra-skin.
A Style that spanned the ages
Many countries around the world adopted the art deco style. The fact, that architects and designers from countries like the United Kingdom, Spain, and Cuba just to name a few adopted this style says a lot.  The movement was very popular during the roaring 20s, the 1930s, and just before World War II.  Its popularity died out for a while during the 1930s and 1940s, and was revived again in the 1960s and 1980s.  Today, you can see the art in many decorative designs in our homes, furniture, and such items as, an art deco throw pillow.
Today, we can add throw pillows that represent the art deco style and design to our sofa, chairs and bed.  Bringing in those smooth lines, geometric shapes, streamed lined forms, and bright colors that will transport us back to the era where luxury, elegance, and glamour were the opulence of society.
I hope you enjoyed the content of this post and images.  I'd love to hear from you, leave a comment and let me know what your thoughts are.  Thanks
See you soon!
Written by Terry Parson